OK, so as per the Desktop/Laptop "How To" guide I'm using Photobucket as my media uploader. I cant speak for any others as I havent used them and I think it seems to be the uploader of choice for many forum users.
Secondly, I'm an Apple user so this is based on my experience with Photobucket mobile app. I'm assuming its going to be very similar if you are a Samsung, HTC whatever else user, but I can only speak for Apple here.
_________________________
Installing the App on your phone would be a good start

When you login it will probably start up in the "Find Stuff" screen :
On the bottom Menu bar you'll see an icon for "Upload Media", click on that and you'll get a screen that looks like this :
Now you've got the choice of using existing pics on your phone, or taking a picture there and then.
If you opt for "Choose Existing" you'll get a screen something like this :
Simply drop into your library, select your desired photo and it will upload automatically. Repeat until finished.
If you opt for "Choose Camera" it should take you straight to your device and you can take your photo. Once done you'll get a screen like this :
If you are happy with your photo, select "Use" and it will upload it, if you are not happy select "Retake". Once you are finished select "My Albums" and you should see your photos in all their glory.
_________
Once you are in your album and decided on the picture you want to share, click on it and you'll get a screen like this :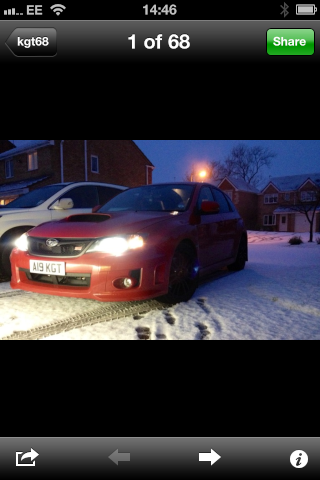 In the bottom right hand corner of the screen you'll see a symbol "i", click on that and you'll get a screen like this :
As you want the photo to show up in your thread automatically, you need to grab the "IMG" code. Simply tap the box and you'll get a pop up like this :
That IMG code is now saved to your Clipboard. Drop back into the NESF website and "Paste" it into the text box.
If you arent sure and want to check out your efforts click "Preview", otherwise click "Send" and we can all marvel at your efforts.
Hope this helps, if not (or Ive made any mistakes or missed any steps out) let me know and I'll be happy to amend. KGT